This has been a year when my work has been involved with presenting my images using a wide variety of techniques.

The finished works may be said to present "A Window on my World".

A selection of the work is shown here.


May 2014

A wonderful day when two of us sat among the vast carpet of bluebells at Enys Gardens near Falmouth soaking up the colour and light and producing on the spot paintings as well as others back in the studio.

These paintings are in watercolour.
My attention was then on presenting some of my collagraphic work ready for shows here and in France.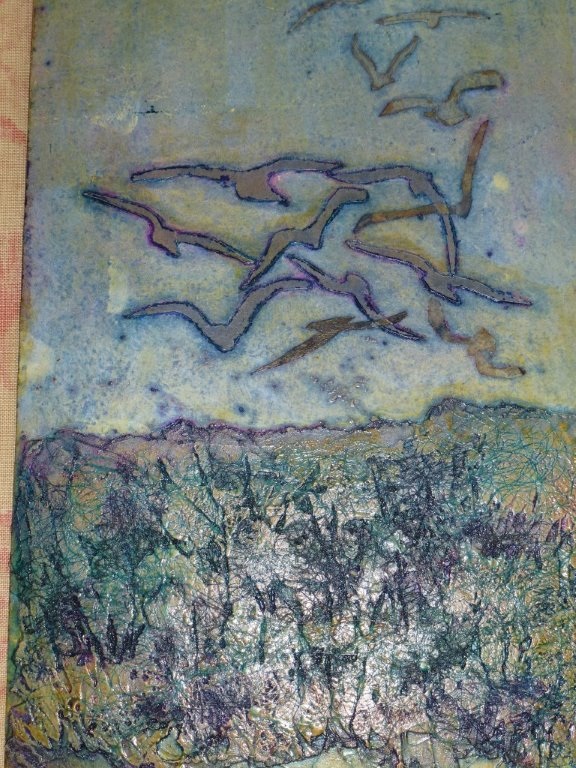 June/July Summer 2014

Painting among the fields of Poppies at West Pentire with friends again .

Images from last year are here on the web site.

I was out and about sketching and painting here in West Cornwall on a number of occasions.

Woods, abstract. and Trees at Trebah are worked in charcoal and graphite.
 
Late Summer 14, September gave rise to .....
 
Dedham Garden and ..A Colourful Bunch were worked with Acrylic paint and palette Knives.


In October 14 I was at home again and collecting data from the local landscape.

Some of this was used to produce the next five paintings
November 14 was spent producing various works in pastel. Two of these feature here.
 
Christmas 14 was spent in Edinburgh, where we were caught up in producing mono prints in various forms. See these at the studio.

January In Austria
Blown away by Austrian Landscape...

Work in oils and in graphite and pastel on prepared ground.

February 15 Collage Work In The Studio
Studio work on trees, stream rocks and boulders.

February 15 Mono Prints
Above Zennor and Cornish Hedge and sea are experimental mono prints worked here in the studio following sketching on site.

March 15

More Mono Prints...see them here at the studio.

April 15
Painting Out....Daffodils at Ludgvan, worked in Acrylic, painting out in the golden field.

April Studio Work 15 (Oils)
Catch the Wave, Bosigran Rocks and Gorse.


Upcoming:

Open Studios is fast approaching and with it the round of Summer Exhibitions here in the far South West of Cornwall.

My work will feature with that of other local artists at Open Studios Cornwall.

Port Navas | May 23 - May30.
Marazion | July 13 - July25.
Constantine near Falmouth | July 25th - August 6th
Coverack | July 31st to August 9th

Open Studios May23 to May 31.
Garden Day New Mill in Aid of ACE June21
Open Studio for ACE 8th November here.

Open Studios May23 to May 31.
Garden Day New Mill in Aid of ACE June21
Open Studio for ACE 8th November here.

See my web site pamfurbyart.com and also www.cornwall artmaps for further information.

Email or phone for a private studio appointment.